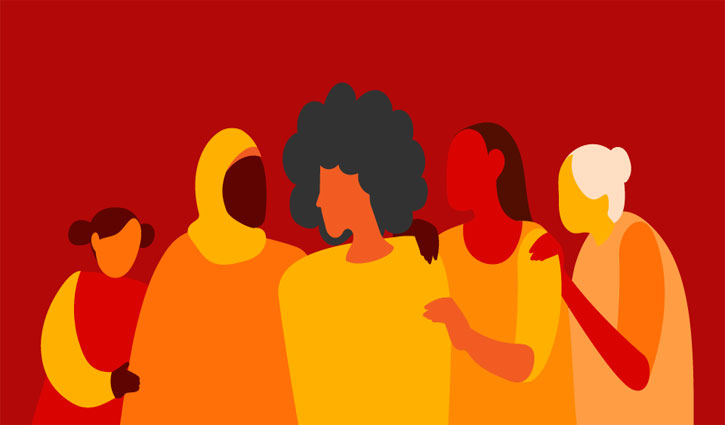 When will we see the end of violence against women?
Violence against women is a universal problem and has become one of the most visible and articulated social problems in Bangladesh.
This is not a new problem for us. Its scale tends to be alarming, especially in rural areas, generally among the poorest strata of the country and of society. At least one in three women in the world has been beaten, oppressed for sexual purposes or abused in her lifetime.
In a patriarchal society like Bangladesh, position, power, prestige, authority, etc. women are generally determined and dominated by men. The attitude of men towards women is important in this problem.
Usually, violence against women in Bangladesh is high. Domestic violence is a serious social disease that is very widespread in both developed and developing countries.
Due to patriarchy and the lack of sufficient empowerment of women, this is a common occurrence in Bangladesh. It includes in particular economic violence, psychological violence, emotional violence, physical / sexual violence.
According to ASK (Ain o Salish Kendra), a total of 626 women were murdered by their husbands during the year 2008-2010. In our country, weddings are preceded by the payment of a dowry agreed by the bride's family. Failure to pay the dowry can lead to violence often in the form of "burning the bride".
Rape is one of the most brutal forms of violence against women in Bangladesh. The ever-increasing rate of rape is an alarming phenomenon and particularly damaging to a woman's identity and to her physical and psychological well-being.
"Odhikar", a women's organization, recorded a total number of 48 women who were raped in January 2016. In 2020-21, there were a number of unexpected rapes and most of the cases have yet to come. been brought to justice. It is so alarming for our women and also for the environment of our country.
Most women in Bangladesh are harassed in the workplace. According to the report by Prothom Alo (2018), moral harassment occurs at 26%, physical harassment at 16.2% and sexual harassment at 29%. In rural areas, we see a large number of female children between the ages of 13 and 15 getting married because of family wishes and decisions. Bangladesh Demographic and Health Survey (BDHS) conducted a nationally representative survey in 2010, around 10% were in the 10-14 age group. In the Covid-19 situation, girl marriage was on the increase.
This violence is so harmful to a girl's physical and mental health. Early pregnancy is also a notable feature resulting from child marriage. Women in rural and urban areas suffer from various unwelcome sexual behaviors that are offensive and humiliating. This includes touching, pinching, grabbing, sexually commenting, asking for sexual favors, exposing one's sex organs, etc.
Many women in Bangladesh are forced into prostitution by their husbands or parents. Generally, women's low economic, social and cultural status tends to be responsible for this violence. In recent times, women are suffering from various types of digital violence such as cyberstalking, non-consensual sexting, etc. "Eve-teasing" has taken on considerable importance as alarming violence in recent times.
Almost all women face teasing when they go out for some reason or when they walk on the road or when they travel on local transport or anywhere, regardless of their age or any teaser class. . In addition to this, there are other types of violence that occur in Bangladesh, including sex discrimination, female feticide, marital rape, incest, medical abuse, mental torture, sexual assault, mutilation. genitalia (FGM), etc.
If we focus on the overall framework, we have noticed a devastating scenario. In the USA, a woman is raped every 6 minutes. About 3-4 million women are raped, nearly one million women have received medical treatment after being tortured, a woman is physically assaulted every 18 seconds.
A quarter of women in the total population are victims of gender violence in France. Research has found that extreme numbers of women are physically and sexually assaulted by police during interrogation in Pakistan, India, Sri Lanka, Bangladesh, etc.
Bangladesh is a patriarchal society. When we focus on the historical phenomena of violence, we have found that the opposition and subordination of men to women is a common characteristic of this society. Customs and values ​​are largely dominated by men. In this case, the family has a strong rule.
But unfortunately, most families are discriminated against on the basis of sex. Studies of violent criminals and violent sex offenders have found that these men are more likely than other adults to have experienced poor parenting, poor supervision, physical abuse, neglect and separation from their parents. parents.
One third of children who have been abused or exposed to parental violence become violent adults. To the extent that schools reinforce stereotypes about gender roles and attitudes that condone the use of violence. They can contribute to a socialization favorable to violent behavior.
Many feminist researchers have suggested that pornography encourages the objectification of women and endorsed forgiveness for sexual assault against women.
Television and films are full of scenes of women threatened, raped, beaten, tortured and murdered because they were only women and who strongly support violence. Violence against women largely depends on socio-cultural and religious norms.
Gender specific socialization, belief in the inherent superiority of men, religious values ​​that give men property rights over women and girls, religious and social customs of marriage. Some economic causes are also responsible in this case. Women's economic dependence on men, limited access to employment and informal sectors, training and education opportunities, discriminatory laws regarding inheritance and property rights, etc. divorce and custody laws, insensitive treatment of women and girls by the police and the courts.
To prevent violence against women, the government, NGOs and the media have taken certain measures. Some government interventions are: Muslim Family Laws Ordinance 1961, Dowry Prohibition Act 1980, Family Court Ordinance 1985, Child Marriage Restricted Act 1984, Women and Child Repression Act 1984, Marriage and Divorce Registration Act 1974. NGOs, especially women's organizations and human rights groups are quite active against violence.
They campaign for the enactment of laws and the modernization of existing laws to protect women. The media have played a crucial role in combating violence and thus forcing positive action. The media play the main activities: providing information, raising awareness and campaigning.
To change the horrible situation in our country, the main responsibility is ours. We need to change our mindset, especially man's attitude towards women is very important in this issue. And the need for women to become more courageous and more aware of all kinds of rights.
(Anika Tasnim Supti is studying Public Administration at the University of Comilla.)