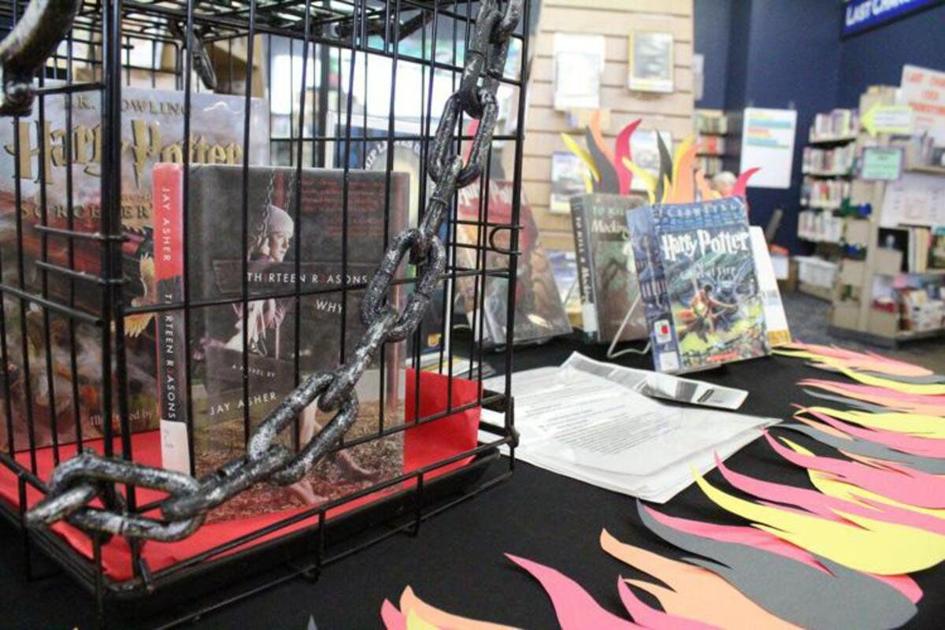 PROHIBITED PUBLICATIONS: Local Libraries Celebrate Forbidden Book Week | New
[ad_1]
In America, the history of the book ban dates back to the arrival of the Puritans in what is now Massachusetts. They were notorious for banning books they disapproved of, such as Thomas Morton's New English Canaan, published in 1637. Since then, banning books has been a reality facing librarians, especially in private schools.
Since 1982, the American Library Association has recognized Forbidden Book Week, which celebrates the freedom to read. Each year, the organization highlights the books that were most banned or contested that year.
The most banned and contested books of 2020 include: "George", by Alex Gino; "Stamped: Racism, Anti-Racism and You," by Ibram X. Kendi and Jason Reynolds; "All American Boys," by Jason Reynolds and Brendan Kiely; "Speak" by Laurie Halse Anderson; "The Absolutely True Diary of a Part-Time Indian" by Sherman Alexie; "Something Happened in Our Town: A Child's Story About Racial Injustice," by Marianne Celano, Marietta Collins and Ann Harrad, with illustrations by Jennifer Zivoin; "To Kill a Mockingbird" by Harper Lee; "Of Mice and Men" by John Steinbeck; "The Bluest Eye" by Toni Morrison and "The Hate U Give" by Angie Thomas.
Books are banned for several reasons. There is pressure to ban books that incorporate themes that deal with the LGBTQ + community. "Bad Kitty" has been banned by some schools because it briefly refers to a lesbian couple.
At the Hulbert Community Library, Principal Cherokee Lowe heard someone talk about Banned Book Club, and she knew she wanted to bring it to her library. The club's goal is to bring these books to the attention of the people of Hulbert and Cherokee County.
"For a long time, it was mainly the same books that were banned or contested, [and] for several years it was a lot of LGBTQ + books. Most are banned for content, like LGBTQ + themes, sexuality, swearing, violence and more, "Lowe said.
Other frequently read books that have been banned or challenged in libraries across America are the "Captain Underpants" series by Dav Pilkey; "Thirteen Reasons Why," by Jay Asher; "In Search of Alaska," by John Green; "Fifty Shades of Gray", by EL James; "The Kite Runner" by Khaled Hosseini; "Hunger Games" by Suzanne Collins; "The Benefits of Being a Wallflower," by Stephen Chbosky; "The Handmaid's Story", by Margaret Atwood; "Bad Kitty" by Nick Bruel; "The Adventures of Huckleberry Finn" by Mark Twain; and "The Giver" by Lois Lowry.
On the Tahlequah Daily Press Facebook page, readers were asked in a Saturday forum if they could think of a reason why a book should be banned.
"Throughout history in various regimes, information suppression has taken place by members of the power structure who wish to erase whatever they see as a threat to the power structure," Brent said. Been.
A large majority of commentators think there is no reason to ban books, like Amanda Leigh.
"Why ban a book? What's the point of censoring what people are allowed to read? It's still America, isn't it? she said.
Clifton Loman visited the forbidden books exhibit at the Tahlequah Public Library and was disappointed, but not too surprised to see a number of books on the table, including "To Kill a Mockingbird".
"It's disappointing. I can't think of any reason [to ban books]. There may be, but I don't see any. There will always be things that we don't like or that rub us the wrong way or offend us. That's the beauty of books and art, "he said.
While many believe in restricting access to books rather than outright banning them, Michael Cummings believes banning books is appropriate if what is written is criminal and harms children.
"The only books that should be banned from adults are those that are criminal, like child pornography," he said.
What you said
In an online poll on the Daily Press website, 50% of readers said there was never a reason to ban books. Six percent think it's okay to ban a book if it spreads lies or could threaten national security. Zero percent would ban a book if it revealed damning information about a politician they admired.
Nineteen percent of participants would ban a book if it was extremely demeaning, pornographic, or somehow an affront to decency; 16% would ban a book if it spread lies, threatened national security, and was demeaning or pornographic; and six percent would ban a book if it posed a threat to national security, revealed damning information about a politician they admired, or was pornographic or demeaning.
Check it out
The Forbidden Book Club meets at the Hulbert Library on the last Monday of each month at 6 p.m. For more details, visit the Hulbert Community Library Facebook page at https://www.facebook.com/HulbertCommunityLibrary.
[ad_2]