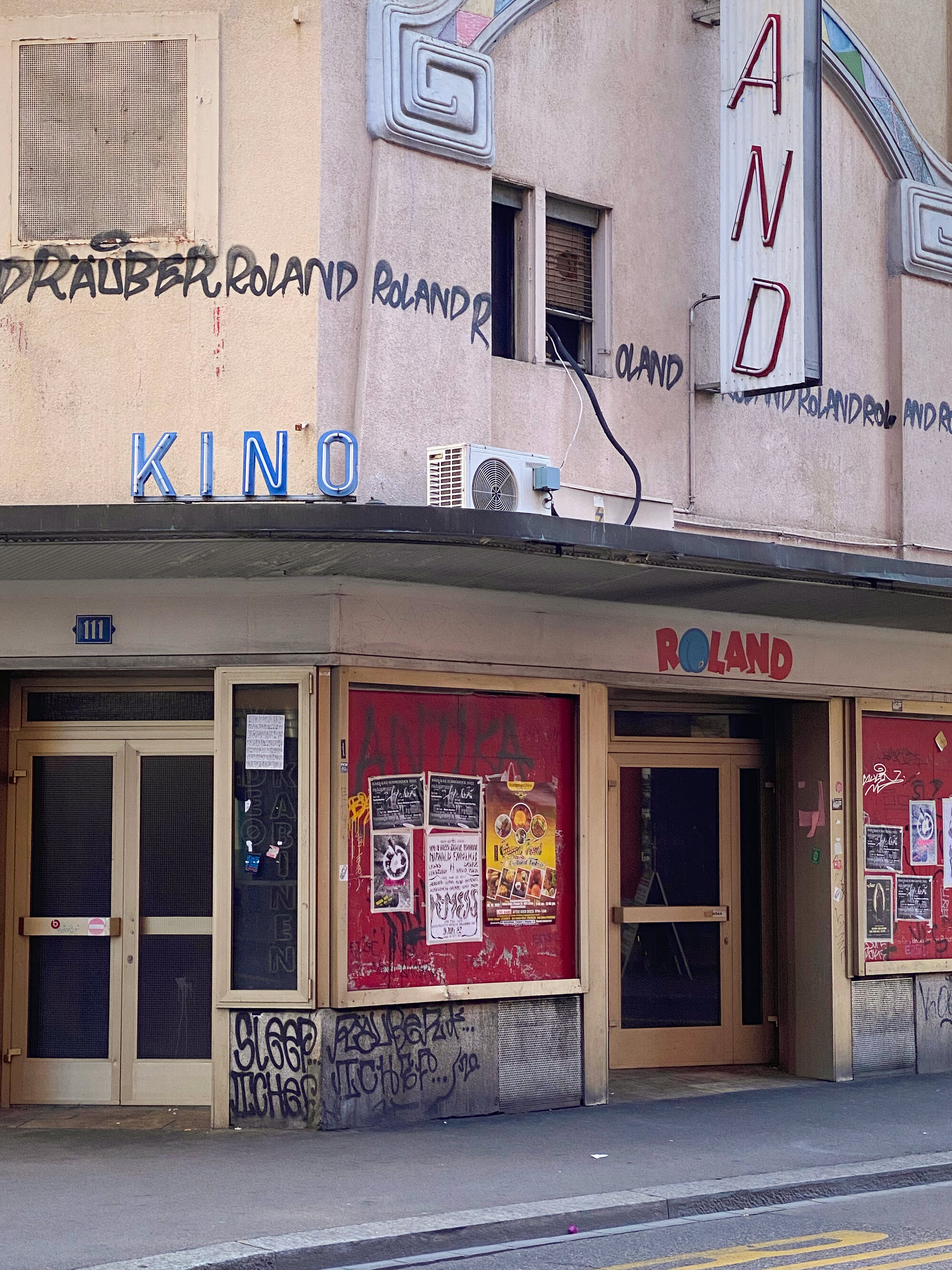 NEXPO and Querformat: Sexkino Roland – Announcements
Presented by NEXPO, Querformat and gta exhibitions, ETH Zürich.
The Kino Roland is closing its doors. As a sex cinema for more than 40 years, it provided pornographic material until recently and thus completes the range of sex services on Zürich's Langstrasse. It has been a mediating institution within the city, an institution that modulates and regulates the contemporary sexual subject through its semio-technical government. Its bricks, neon signs, and murals were tasked with reproducing the biopolitical norm of heteronormative patriarchy, inducing sexual arousal in male viewers while exposing the disobedient nature of sexual desires.
In search of possible locations for the next Swiss national exhibition Nexpo, we explore places of change and look for the new in the existing. Driven by the question "How do we live together in the 21st century?", the collaboration with Querformat starts from the idea that space and sexuality are deeply entangled and intertwined. The emptiness of Sexkino Roland marks a turning point while opening up to various speculations and potentialities. The old cinema will be the subject of an investigation. It becomes the starting point for a discussion on how corporeality is negotiated in urban and public space.
For one last time, we invite you to inhabit the void of Sexkino Roland with us.
Works by Mathilde Agius, Ellen Cantor, Azize Ferizi, Dese Escobar, Sidsel Meineche Hansen, Larry Johnson, Monica Majoli, Reba Maybury, La Chola Poblete, Dean Sameshima, Annie Sprinkle, Wu Tsang; installation by Querformat; kiosk of Tatjana Blaser and Madame ETH; Mistress Rebecca merchandise.
Porn theater delimits a territory under the exclusive domination of the male subject. Women are notoriously absent, appearing only on screen or on wall representations of lesbian relationships through the male gaze and as devices of pleasure. This fundamental erasure of femininity is well illustrated by Audre Lorde, who argues that the erotic power of women is oppressed by pornography. Symbolic representations of patriarchal power in heterosexual pleasure have led feminists like Andrea Dworking to reject pornography as a whole, having identified a clear link between extreme sexual violence against women and pornography consumption. Other feminist figures identify a radically liberating potential within porn. For Virginie Despentes, "the porn actress is the liberated woman, the femme fatale, the one who turns heads, who always provokes a strong reaction…" While the anti-pornography movement takes the risk of defining the female body as inherently incapable of emancipation through porn, Despentes states that "the only moral problem…is the political aggressiveness with which these women are treated behind the scenes".
Built in 1881, the transformation of the Kino Roland into a sexual cinema in 1978 is part of an already developed pharmacopornographic capitalism, as postulated by Paul B. Preciado. It was one of the visible architectural devices of the pharmacopornographic regime in the public space. Its closure could simply mean a broader pushback of pornography consumption towards the domestic and digital space. Pornhub, XVideos and Only Fans have turned every room into a sex cinema and every inhabitant into a potential porn actress/actor.
However, what happens in the darkroom could have been more complex than watching and jerking off. Random encounters between pleasure-seeking men grew out of the need to share a physical space to watch porn. Samuel Delany has written about his experiences dating as a black gay man in New York's 42nd Street sex cinemas, just before they were demolished following the Times Square zoning plan. These spaces fostered cross-class and mixed-race social contacts in the form of aromatic intimacy. The complex social network that surrounds them has stabilized different communities while maintaining their heterogeneity. Four years after the book's publication, the newspaper "Neue Zürcher Zeitung" reported that eight immigrant sex workers had been arrested for providing sexual services at Walche, another Sexkino in Zurich run by the company that operates Roland.
It is perhaps no coincidence that the closure of Sexkino Roland overlaps with a larger and ongoing process of gentrification at work in Langstrasse. Among Zürich's sex cinemas, "Stüssihof" has already been converted into a children's cinema in 2014, while "Sternen Oerlikon" has become a gastronomic place, imagined as a meeting place for "the local community". Gentrification goes hand in hand with the disappearance of sex in the public space. The transgressive character of porn mentioned above is in direct contradiction to the process of urban homogenization. As the collective "Dangerous Bedfellows" asserts, The battle over sex in public is "also about real estate and big business". As they pointed out, "to restrict sexual expression in public space is to artificially inflate property values, to 'gentrify' some neighborhoods while turning others into commercial dumping grounds, and to destroy the sexual culture that residents and tourists have built – and governments have fought for – for decades." When gentrification arrives, sexual and uncomfortable content is replaced by family entertainment. The foundations of the pharmacopornographic regime must remain underground, either in the urban depths or in the cybernetic depths.
The closure of the Kino Roland and the current state of abandonment of the building at the same time open up a void in the public space of the city. No longer a potential cruise interior, nor a physical place that supports the biopolitics of pharmacopornographic society, it leaves a void full of potential, ready to be inhabited one last time.
A few years ago, Paul B. Preciado gave a speech before the Ecole de la cause Freudienne, announcing a "period of unprecedented historical importance", when "the epistemology of sex, gender and difference sex is changing". . Sexkino Roland could be the mark of a collapsing epistemology, and the building could mutate alongside it, thus marking the passage from sex, gender and sexual difference to an infinity of body differences, unidentified desires and unidentifiable.
Program
Opening

Inclusive monuments? Preservation of sexual cinemas: October 15, 6–7.30 p.m.
Lecture by Charlotte Malterre-Barthes (EPFL) and Silke Langenberg (ETH Zürich)

Sexual saturation device: October 15, 8–9.30 p.m.
Performance by Candela Capitan
Faster than an erection: October 21, 6–8 p.m.
Lecture by Reba Maybury and Cassandra Troyan
Samuel Delany's Porn Worlds: October 22, 6–8 p.m.
Lecture by Tavia Nyong'o (Yale University) and Samuel Delany
Conference by Monica Majoli: October 28, 6–8 p.m.
MANIFESTO CYBORG_2: October 28, 8–9 p.m.
Performance by mercedes_666
Leaving the cinema: October 29, 6–8 p.m.
Lecture by Damon R. Young (UC Berkeley)
Closing speech: Kino Roland Barthes: November 3, 6–8 p.m.
Lecture by Bruce Hainley (Rice University)
NEXPO
=(c=c.charCodeAt(0)+13)?c:c-26);});return false">info [​at​] nexpo.ch / T +41 79 695 16 35
Instagram/Facebook/ Twitter / Linkedin
Querformat
=(c=c.charCodeAt(0)+13)?c:c-26);});return false">querformat [​at​] arch.ethz.ch
Hours: Wednesday to Sunday from 6 p.m. to 10 p.m.