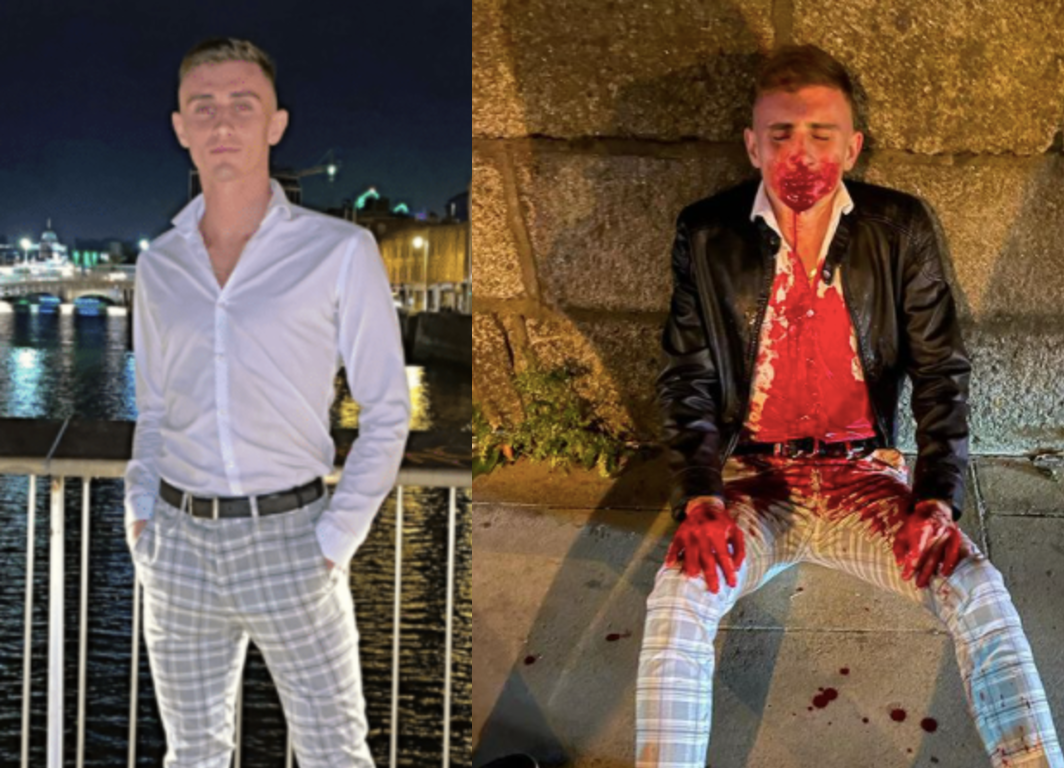 Irish Olympian assaulted on Dublin street by gang of 12
Ireland's very first taekwondo representative at the Olympics suffered an unprovoked attack in Dublin, leaving him drenched in blood and in need of surgery.
Jack Woolley, who was knocked out in the first round of the 58kg division at Tokyo 2020, was involved in an incident that occurred in the early hours of Saturday morning along the Liffey River, which runs through the center of town .
In a Instagram Post, the 22-year-old bisexual athlete wrote as he was on his way to a bar when "a gang of about 8 to 12 men and women in their twenties started violently attacking people along the promenade."
Woolley explained, "I fell victim to these random attacks as I walked past I was punched in the face by one of these band members." He added: "One punch and followed by 'my mistake, the wrong person', then they continued to run down the road attacking more civilians who were going about their own business."
Fortunately, Woolley was able to stay safe from there and called an ambulance. He was then taken to St James's Hospital where he underwent surgery to treat his injuries. "Thanks again to everyone for the support and the kind messages. I hope for a speedy recovery. It's been a tough few months, "Woolley concluded.
Woolley had his picture taken on the bridge a few minutes before the attack and joked, "I looked good and everything."
Woolley confirmed via his Instagram Stories that his surgery was a success and that he is now back home. Many sent their thoughts and best wishes to Woolley following the attack. Irish boxing gold medalist Kellie Harrington wrote: "I'm so angry to read this. I'm absolutely sorry for you… if I could give you the biggest hug right now, I would.
In a Facebook post, South Dublin Taekwondo, the Woolley team, condemned the attack, writing: "SDTKD is wholeheartedly appalled by the attack and our hearts go out to Jack, his family and friends at this time. . Jack will receive the full support and care of everyone at the club. "
Speaking to Brendan O'Connor the RTÉ Radio One, Annette, Woolley's mother, called the photos of her son covered in blood "shocking", but it wasn't until the next morning that she "realized how serious it was."
Ms Woolley also made it clear that although her son is a taekwondo fighter, he chose not to fight back. She added: "It all happened in a split second, but as soon as he recorded what had happened, the initial shock of what happened – he said it went through his mind. head: "Do I defend myself and defend myself, don't I?" "
In a statement to Indy100, a spokesperson for the Irish Police Service said: "Gardaí attended the scene of an assault that took place on the Grattan Bridge in Dublin at around 12:40 am on Saturday August 14, 2021.
"A man in his 20s was taken to St James's Hospital for treatment of non-life-threatening injuries sustained in the incident."