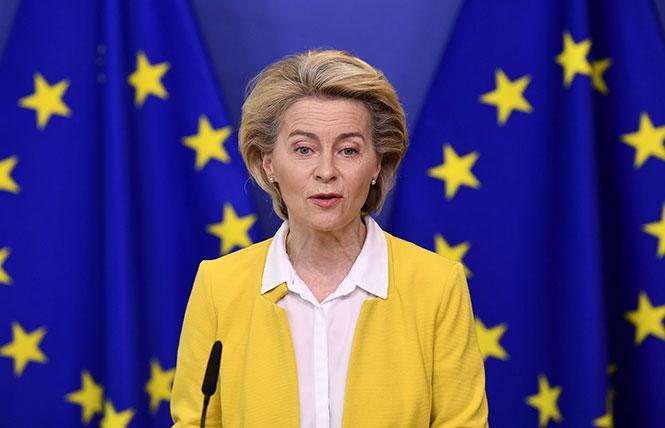 EU leaders attack Hungary, launch legal action
A meeting of the General Affairs Council of EU leaders in Luxembourg last week erupted into heated debate, with some members having harsh words for Hungary over the passing of a discriminatory anti-LGBTQ law there.
Hungarian President Janos Ader signed the bill on June 22, the day before the meeting. The Russian-style anti-homosexuality propaganda bill was quickly drafted and joined to popular anti-pedophilia legislation less than a week before the Hungarian National Assembly overwhelmingly voted in favor of the law on June 15.
It was the third assault by the Catholic-majority Central European country on its gay citizens in a year.
Hungary's anti-gay law was not on the agenda of European leaders, but it quickly became the main topic of the two-day summit. In a June 15 press release, the International Lesbian, Gay, Bisexual, Transgender and Intersex Association called on the European Union to use all its legal and political instruments to compel Hungary to respect European, international and related laws. human rights and protect the rights of LGBTQ people. .
"The European Commission can no longer turn a blind eye to the ongoing legislative attacks launched by Fidesz [party] against the human rights and fundamental freedoms of LGBTI people in Hungary, but must use all available instruments to hold Hungary accountable for respecting fundamental rights, including LGBTI rights, "said ILGA Executive Director -Europe, Evelyne Paradis, referring to the executive branch of the European Union.
It seems that the head of the European Commission, Ursula von der Leyen, has heard the calls to action. Von der Leyen promised "to use all the powers of the committee to ensure that the rights of all EU citizens are guaranteed, whoever you are and wherever you live," she told reporters at a press conference on June 22 in Brussels, Belgium.
"I have instructed my responsible commissioners to write to the Hungarian authorities to express our legal concerns before the bill enters into force," she continued.
Von der Leyen said the EU would not compromise its principles of human dignity, equality and respect for human rights, the BBC reported.
The coalition of 17 EU members led by the Benelux countries (Belgium, the Netherlands and Luxembourg) is also committed to defending LGBTQ rights and fighting discrimination based on sexual orientation and identity. gender.
Country leaders called Hungarian law a "blatant form of discrimination" when they signed a joint letter on the first day of the meeting; Hungary was not mentioned by name in the letter. Late last year, the EU announced a five-year plan to mainstream LGBTQ rights in the 27 member countries.
Now all eyes are on the European Commission, which oversees EU laws and policies and holds the purse strings, and the European Court of Justice, which enforces EU laws.
Charles Michel, the president of the European Council, defended the debate as vital for the operation of the bloc and its democracy, the New York Times reported.
Dutch Prime Minister Mark Rutte was so angry that he told Hungarian Prime Minister Viktor Orbán: "If you don't like him, there is also an alternative: quit the union," the Washington Post reported.
Xavier Bettel, Luxembourg's gay prime minister, who is also the committee's only LGBTQI member, called Hungary's new anti-gay law "too much". During an intensely personal account of his outing trip to the council, he said, "The hardest thing for me was accepting myself when I realized I was in love with someone from my gender, "The Times reported.
During his speech, Bettel emphasized the suicide rate among young gay men and added that it is wrong to confuse homosexuality with pedophilia or pornography.
"I didn't get up one morning after seeing the ad and became gay," said Bettel, whose husband for six years sometimes accompanies her to government meetings. "That's not how life works. It's in me, I didn't choose it. And accepting yourself is hard enough, so being stigmatized too is too much."
Victor Madrigal-Borloz, the United Nations independent expert on protection from violence and discrimination based on sexual orientation and gender identity, told Reuters he had raised concerns with Orbán about the law.
Last year, Hungary banned gender recognition and banned transgender people from legally changing their birth identity. The country has also banned same-sex and single-parent adoptions. Hungary is now blocking minors' access to information on sexual orientation and gender identity.
Thomas Byrne, Irish Minister of State for European Affairs, said Hungary was in troubling territory. "This is a very, very dangerous moment for Hungary, as well as for the EU," he said, as quoted by Reuters.
Final straw
As Hungary's elections approach next year, Orbán's latest anti-LGBTQ attack in a series of legal attacks was the last straw for a majority of European leaders. Orbán has been in power for over 10 years. His leadership is challenged by a coalition of parties that have banned together.
In an effort to retain power, Orbán takes a page from the playbook of Polish President's conservative ally Andrzej Duda, making the Hungarian LGBTQ community the scapegoat to project an image of conservative family values ​​to voters. Orbán and other Hungarian ministers stood firm, saying the law was not anti-LGBTQ and that it did not discriminate against gay adults.
The bill protects children and gives their parents control over sex education, sexual orientation and gender identity, Hungarian leaders said.
Poland was the only country to support Hungary during the Council debate. Other Eastern bloc countries – Estonia, Lithuania and Latvia – signed the joint declaration supporting the EU position. Slovakia has not taken a position.
European experts and leaders were quick to point out that Hungarian law violates several European and international human rights laws.
"We need to get assurances from Poland and Hungary that they will really follow what the European court says in the future," Swede Hans Dahlgren told Reuters.
Member of the European Parliament Pierre Karleskind called on the committee to suspend several billion euros in structural funds intended for Hungary for its anti-LGBTQ laws and for Polish cities and regions which have declared themselves LGBT-free zones.
He has threatened legal action against the EU as well as many other MEPs from all major political groups if the committee does not take stronger action against Hungary and Poland, he criticized in a published editorial. by Reuters.
It is unclear whether the EU or the UK, which has also expressed concerns, are considering imposing sanctions on Hungary.
Correction
Actress Divya Dutta was mistakenly identified as the transgender actress in the June 24 article, "'Sheer Qorma' Indian Muslim Love Story Breaks Barriers." The error was made due to a misunderstanding during the interview which also appeared in the transcript. Transgender actor Shivali Chettri's scene was cut from the 30-minute version of Frameline and other film festivals of the 45-minute film, writer and director Faraz Arif Ansari told the Bay Area Reporter. The online version has been corrected and updated.
Do you have any advice on international LGBTQ news? Call or email them to Heather Cassell at WhatsApp: 415-517-7239, Skype: heather.cassell, or [email protected]
Help the Bay Area Reporter keep going through these trying times. To support local, independent and LGBTQ journalism, consider becoming a BAR member.