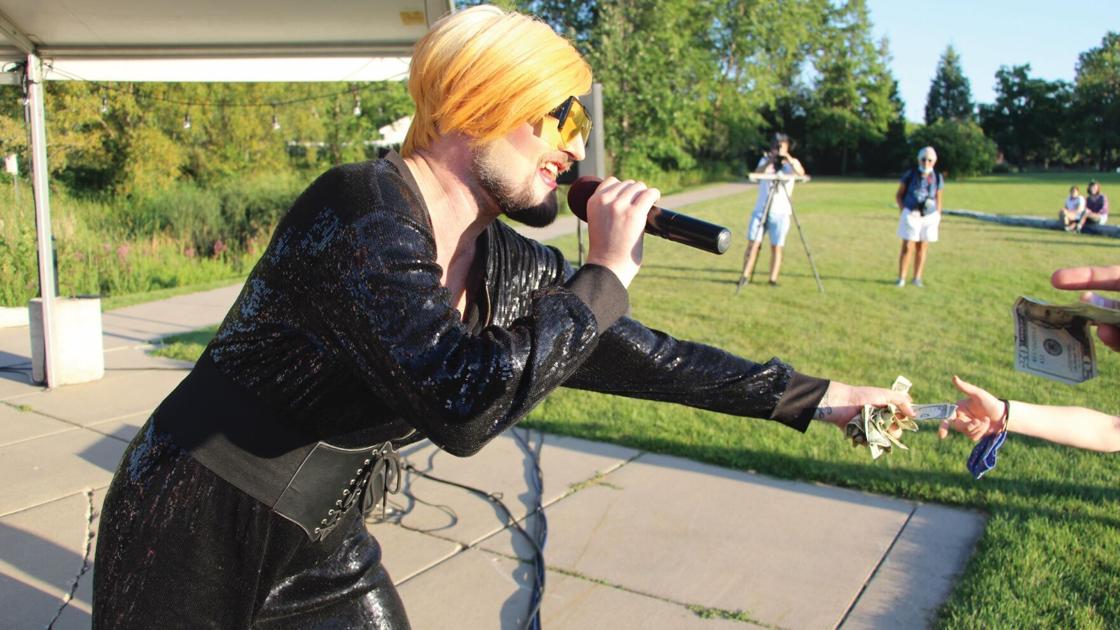 Column: Watching the Bloomington Pride Festival with a Compassionate Eye | Opinion
For many, Bloomington's celebration of the contributions of individuals who identify as lesbian, gay, bisexual, transgender, queer, or other gender identities has likely been a positive experience.
As someone who spent 90 minutes in the meeting, all spent with a camera, I will see it again through the cynical lens I wear most everywhere I go.
It was no surprise to learn that the city was hosting such a gathering this summer. To the delight of some and the contempt of others, the city has been rather progressive in its recognition of the various groups that make up its inhabitants.
Like many others, I probably haven't given any thought to the backgrounds of the performers who were booked to entertain the crowd on August 14th at the Bloomington Civic Plaza. Rarely have I thought twice about what the yo-yo master or band members of an '80s musical tribute do with the rest of their lives before or after performing during one of the arts programs at Bloomington summer. I also didn't hesitate to investigate the performance history of the bands, drag queens or comedians that were booked for the pride festival.
As we learned from residents, there was an artist alleged to be a producer of amateur pornography, among other concerns. I don't have hours to do my own independent survey, or read all of the latest social media analysis and opinions on artists. I sampled the online discussions and saw nothing to suggest the allegations were unfounded.
City officials followed suit, of course, and had the artist removed from the show in response to residents' concerns. The city highlighted its dependence on a third party to help reserve talent. I also didn't have time to review the booking process or write an article on how and why the talent was chosen.
Unsurprisingly, there was a backlash against the city's withdrawal of the artist. It is not unreasonable to assume that performers will tailor their performance to their audience. Most comedians perform in front of a crowd, and I would bet their act is less family-friendly at a licensed venue than at a community festival.
I don't disagree with the city's afterthought decision. But it shouldn't have been that way.
We will all have different standards for the type of personal and professional lives that performers lead, especially those who perform for children. I won't try to draw the line. But I think it's fair to look at the backgrounds of those who were booked to perform at a public gathering, on public grounds, organized by a government entity.
I remember a few spontaneous incidents – some recent, others going back years – where a person lost a job they had or for which they had been hired, due to circumstances outside of the job or job. 'use . Legal problems are an obvious source of such circumstances, but they are far from the only reason.
And it's no secret that some employers review applicants' backgrounds for certain jobs or positions, and may decline to hire a candidate based on the results.
The difference is that the firing of an artist by the city came after the fact. If the entertainment lineup had never included the artist, maybe the festival wouldn't have had that cloud over it.
Let's face it, there would have been close scrutiny and objections to the festival regardless of the findings. But it would have been wise for the city, and its reservation agent, to provide a less obvious source of objection.
Were the acts that were performed at the Civic Plaza family friendly? Some will tell you no, based on a few photos I posted on Sun Current's Facebook page after I got home, and a video comment I found posted on a Facebook group.
I may not appreciate the entertaining value of drag performances that a crowd of over 250 people seem to enjoy. I might wonder why drag performers who sing or lip-sync with music got handfuls of tips from audience members, while comedians didn't get a dime. But I did not find anything in the acts that was shocking or horrific.
I was chatting with a few people between photos, so I didn't hear all the comments from every comedian, but I didn't hear anything objectionable. I guess a lot of the jokes didn't resonate with the kids in the audience, as you would expect.
At the end of the night, those who were present were those who wanted to be there. No one was forced to attend, and aside from a few colorful and unique fashion choices by some of the attendees – or clothing expressing pride and acceptance – the crowds were what you might find at Summer Fete. It was more rainbow than red, white and blue, but that was to be expected.
Aside from the scrutiny of the performers, my cynical lens will further color my memories of the festival. More on that next week.
Follow Bloomington Community Editor Mike Hanks on Twitter at @suncurrent and on Facebook at suncurrentcentral.
Copyright © 2020 at Sun Newspapers / APG Media of East Central Minnesota. Digital distribution of this content without prior written consent is a violation of federal law and may be subject to legal action.