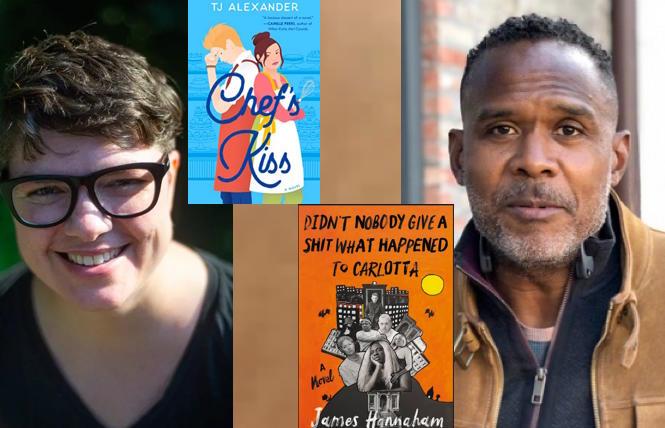 Bay Area Reporter :: Summer Books Roundup III
In our third and final installment in the Bay Area Reporter's summer book series, we spotlight stunning fiction, a new book about a young trans boy's journey through elementary school, and a sartorial exploration of the concept of "papa," from "lumbersexual," and "spornosexual." Have a safe and wonderful pride and keep reading!
FICTION
Virgil Kills by Ronaldo V. Wilson, $17.95 (night boat)
The "murder" that happens in the stories of Wilson, an award-winning author, multimedia artist, and professor of literature at the University of California, Santa Cruz, is primarily about the literary forms he dissects. Wilson's inspiration manifests in a range of themes and treatments based on the travels and ruminations of Virgil, a queer black Filipino who explores and reconnects with lovers on the East and West Coasts, Germany, West from Massachusetts, Tennessee and Guam. As the stories progress, readers get an intimate look into Virgil's life and his impressions of sexual and government policy, race, identity, and how reality is viewed through the prism constructions and expectations of society. Virgil's episodic adventures flow with uninhibited prose and a strong sense of self.
Chef's Kiss by TJ Alexander, $17 (Atria/Bestler)
This deliciously delicious romantic comedy from first author Alexander is a perfect read for the beach. The light-hearted story follows bisexual twentysomething Simone Larkspur, a stiff and stuffy Cordon Bleu educated chef with a valuable job as a recipe developer at a money-losing West Village magazine. The company hires "Ray", a high-spirited non-binary kitchen manager who catches Simone's eye and, as expected, the rainbow-colored sparks fly. Though issues of transphobia, gender contempt, and discrimination surface, love triumphs over all in this impeccably written tale that will stand out for readers of queer novels.
Other Terrors: An Inclusive Anthology; Edited by Vince Liaguno and Rena Mason, $16.99 (Tomorrow)
The word "inclusive" means everything in this unique collection of horror shorts featuring a color wheel of LGBTQ+ characters with different genders, sexual orientations, and cultures. Sometimes the victim, other times the haunting, these characters are randomly sliced ​​and diced in horror tales that range from gory to psychologically terrorizing. Whether it's teenage lesbian lovers on the run from a serial killer, or a Muslim trans woman with a heart of gold protected by local vampires, or a black history teacher with superpowers, there's something for every horror fan here – with a relevant eye focused on human diversity.
Patricia wants to be cuddled by Samantha Allen, $27 (Zando)
Following the success of author Allen's queer travelogue of America's red states, "Real Queer America" ​​comes this debut novel chronicling the zany exploits of four reality show contestants on "The Catch who are vying for a coveted spot in the show's grand finale.
Hoping to catch the eye of ultimate tech company founder Jeremy Blackstone, they all end up on the sketchy and spooky island of Otters in the Pacific Northwest and include a Christian influencer, a model , a vlogger and a black bisexual woman who wonders why she even appeared on the show other than to be the "token" minority. Keeping a furry eye on all their antics is a monster lurking in the trees just waiting for the perfect moment to strike.
The balance between small melodrama based on "Housewives", gore and identity struggles is wonderfully achieved despite the novel's brevity. Silly fun for the whole family as King Kong meets "The Bachelor in Paradise" and "Naked and Afraid."
Nobody gave a damn what happened to Carlotta by James Hannaham, $28 (Little, Brown)
Hannaham's latest chart-topper, black author and PEN/Faulkner Prize winner, describes the release of trans woman Carlotta Mercedes from a prison term in a men's penitentiary for her involvement in a botched robbery. After transitioning while incarcerated and now on parole, she must now navigate life on the outside as a woman unfamiliar with the now-gentrified Brooklyn of her younger years.
Chronicling a 4th of July weekend, the fireworks begin once she attempts to reunite with her family, including her estranged son, who finds his transition less than savory. Tiptoeing around any issue that might violate her parole, Carlotta is a sight to behold as she attempts to reenter a now unknown world. In Hannaham's hands, this theme shimmers with humor, pathos, and that kind of queer energy that readers love.
CHILDREN'S PICTURE BOOK/YA
If You're a Kid Like Gavin: The True Story of a Young Trans Activist by Gavin Grimm and Kyle Lukoff, $18.99 (HarperCollins/Tegen)
Prolific, award-winning YA author Lukoff teams up with activist Grimm in this moving portrait of Grimm's childhood and the hard choices he had to make to finally feel (and have the right to feel) whole and complete. as a transgender person. J. Yang's digital illustrations are deep and darkly colored while giving the story a magical and timely quality about a pressing issue that the authors express in a warm and infinitely relatable way.
As Grimm's childhood unfolds, encompassing all the struggles of the schoolyard, the puzzles of the bathroom, the private terror and embarrassment a trans child might feel, there is also strength in Grimm's fight to belong and the right "to be honest about who you are". Creatively designed and extremely powerful, it's a must-read for any age group.
GRAPHIC NOVEL
Our Colors of Gengoroh Tagame, trans. From Japanese by Anne Ishii, $32.50 (Pantheon)
The award-winning author of "My Brother's Husband" series about a young girl and her single Japanese father has produced an episodic story of coming out full of color and self-acceptance. Sora Itoda, 16, a suburban high school student, keeps his feelings for a male classmate locked up until he befriends an older local store owner who is openly gay and eager to share his experiences. and showing Sora the wonders of identity and how going out can be a transcendent experience. Trouble brews and roadblocks appear, but with the help of good friends new and old, Sora emerges whole and happy. Beautiful artwork and plenty of drama combine to make this an effective, gripping, and entertaining story of love, pain, and the catharsis of self-love.
NON FICTION
Secret City: The Hidden History of Gay Washington by James Kerchick, $29.99 (Henry Holt)
Kerchick offers this comprehensive history of gay movements and key figures who have faded into obscurity thanks to political leaders spearheading anti-LGBTQ agendas. Beginning with Franklin Roosevelt, it traces presidential administrations throughout history that have been dogged by sex scandals or stretched by pandemics like AIDS or controversial policies like "Don't-Ask Don't-Tell." History buffs will devour this American political excavation told through the leaders, organizers, critics, and revolutionaries who countered and defended the queer civil rights movement.
Fashionable Masculinities: Queers, Pimp Daddies and Lumbersexuals by Vicki Karaminas, $49.95 (Rutgers University Press)
New Zealand fashion historian and authority Karaminas presents this vivid exploration of constructions of masculinity expressed through a sartorial tour of manhood, identity and sensational style. This illustrated commentary will delight queer fashionistas and anyone who wants an update on how appearance figures into postmillennial visions of gender, queer boundaries, and the destruction of normative dress codes.
Included is an original essay on Harry Styles, producer and rapper Sean "Puff Daddy" Combs, and the concept of "Dad" in terms of race, age, and attitude. Scholarly and educational, this thought-provoking intellectual exploration of concepts such as "lumbersexual" and "spornosexual" (the combination of sport and pornography) will turn heads.
Help keep the Bay Area Reporter going during these trying times. To support local, independent, and LGBTQ journalism, consider becoming a BAR member.